The Most Improbable Moment
November 5, 2013
Yeah, another WFC post. I did warn you.
I should probably be babbling excitedly about all the authors I got to see/meet (although I was too shy to really talk to any of them, except for Tad Williams obviously, and Robin Hobb at her kaffeeklatsch). But the craziest thing, which happened at the mass signing on Friday night, did not involve any authors. Except insofar as I was standing in line for Robin Hobb, or rather keeping a friend company as she stood in line (I had already been there earlier).
And then this girl walks up to me and says, in German – in Austrian German, "Excuse me, but do we know each other? You look so familiar."
We were all wearing badges with our names and countries on it, so I could see she was from Austria too (although the language was, obviously, enough of a clue.) I'm not good with faces, so I couldn't say whether I'd seen her before, but her name did seem familiar, so we talked a bit and eventually discovered that we'd gone to the same school
There were literally three Austrians on the list of attending members. There were maybe a thousand members in total. There were about as many students at that school. What are the chances that two people who went to that school at the same time would end up at the same con?
Truth really is stranger than fiction. I would never dare to write something like this in a story.
I saw her again a bit later that evening, standing in line for Neil Gaiman, and we talked a bit more, and it turned out my guess was correct: we knew each other because we were in the biology club together.  Which had maybe twenty members. Again, what are the chances?
And then guess what I just stumbled over on Robin Hobb's twitter: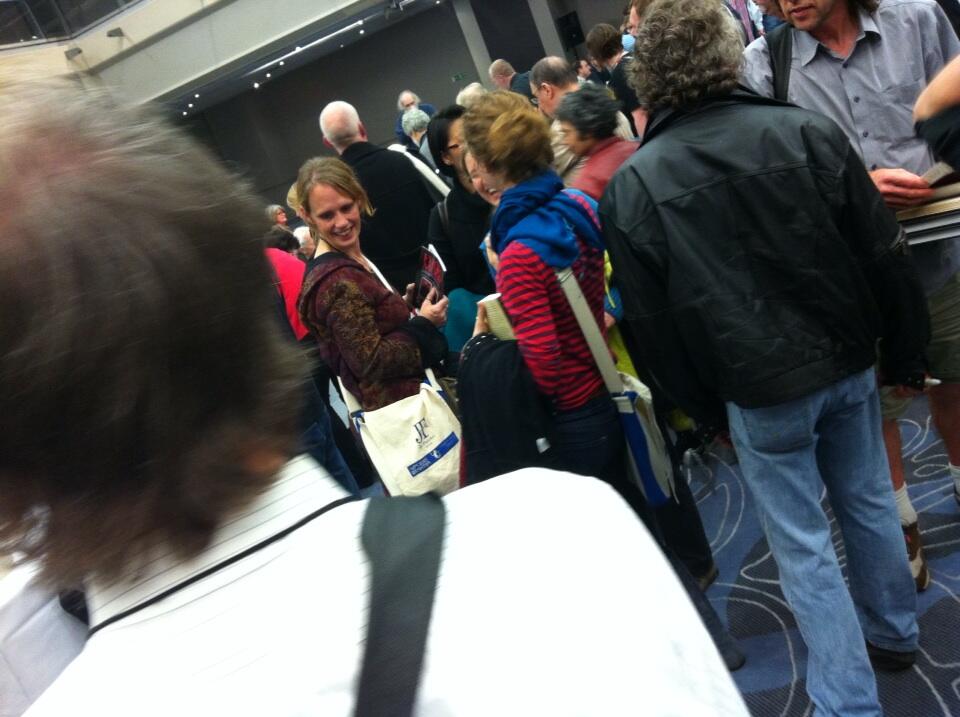 It's not a good picture, but the girl in the stripy red shirt is my schoolmate, and there's a tiny bit of my face visible left of her head, laughing incredulously.
Now I wish I was on twitter so I could say thank you for having a picture of this utterly, ridiculously improbable moment.